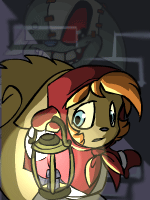 To understand what is going on, you should read the Neopedia Article here. The 8 - bit grundo's friend Gilly is trapped in the castle. To escape, you must visit all four rooms, and collect an item from each, and then head to the Crypt to put the spirit of Eliv Thade to rest. Beware, this terrible spirit has been driven insane over the years and will do anything he can to stop you escaping his domain.
You can move 1, 2, or 3 spaces using the mouse, but beware - each time you move Thade will give you an anagram, and the further you try to move the harder the anagram will be! Watch out for the cracked floor also - you don't want to fall into the basement, oh no, that would be bad!
Ad blocker interference detected!
Wikia is a free-to-use site that makes money from advertising. We have a modified experience for viewers using ad blockers

Wikia is not accessible if you've made further modifications. Remove the custom ad blocker rule(s) and the page will load as expected.