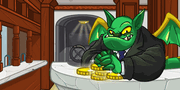 You're a cashier at the National Neopian, and it's an extremely busy day! Not only are Neopets coming in by the dozen to deposit money, a nasty band of thieves has decided to come and steal it all. It's your job to work the security system to keep the customers in and the robbers out!
To control the security system you must use the keyboard. The keys S, D, F control the three doors to the left of the screen, and the keys J, K, L control the other three. Only press the security system when you see a robber or TPOSG! Very simple really! You'll recognise the bad guys by their wanted posters at this page. Also, there is a rumor that a Techo criminal who has recently escaped jail is on the loose.
If you don't activate the alarm, the robber or TPOSG will steal half of your Neopoints (the ones in the game, not the ones you have on Neopets)! Also, pressing the alarm when you rarely see TPOSG will cost you for unnecessary use of the alarm system (he rarely appears as a customer). Lastly, you can press the spacebar to turn 100 NP into a big gold bar. Try and leave as many customers alone as possible before you do this. This is useful because robbers can't steal those as they are too heavy. Or they're just lazy.