The Incredible Crew is the strongest thing in the universe. Here's a list of weapons they have (the weapons in
bold deal 1000
damage):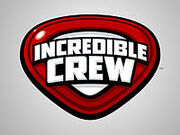 "The Worst Thing that Could Ever Happen to You"

"Origami Snowball"
"On The Go Airbag"
"Box Surprisers"
"Science Lab Tablecloth Trick"
"Friendship Braces"
"Dance Dance Recycling"
"No, You Hang Up"
"Baby Interpretron 3000"
"Butter Fingers"
"Prize Surprise"

"Not Fun Party Games"

"Super Annoying Guy on a Plane"
"Don't Disturb the Giant!"
"Playing Instruments with Other Instruments"
"Running Errands With My Mom"
"Milk Harmonica"
"Wild Beast in a Crate"
"Magical Video Game Controller"
"Hand Unsanitizer"
"Gross Out Bake Sale"
"Detention Rhythm"
"Horrible Surprise Party"
"Spitball Arms Deal"
"Candy Deodorant"

"Crazy Straw"

"Kung-Fu Gingerbread"
"Perso"
"What Santa is Doing Right Now"
"Nacho Tortillahose"

"Screaming at Soup"

"Turkey Bowling"
"Cheat Sheet Tacos"

"Broken Toy Machine"

"Dream Ruiner"
"Super Duper Gross Things"
"Shoe Hands"
"The Power of Illusion"
"Parrot Stopwatch"
"Captain Jake Blue Jay: Swimming Pool Pirate"
"I Just Hatched"
"Shark Tooth Terry"
"Santa Claus Hunters"
"Adults Using Toy Versions of Things"
"Get To Know Your Cast Members"
"Basketball Net Stuck-over"
"Breaking News"
"MIRI: Voice Assistant"
"Olaf: The Super-Sensitive Viking"
"Bad Luck Rap"
"Fun with Slo-Mo"
"Meat Goalie"
"Face Jeans"
"Diorama Dismount"
"Heavy Metal Acoustic"
"The Last Pillow-Fighter"
"Slopscotch"
"Things Replaced with Different Things"
"My Foot's Asleep"
"Top 5 Extreme"
"Bad Juggler"
"Did You Drop This? Can You Hold This?"
"Embarrassed Girl"
"Too Many Keys Man"
"Spot the Difference"
"Reading Is Fun"
"Three Course Field Goals"
"Kids Security System"
"Rodney Tape Face"
"Crazy Fortune Teller"
"Really Bad Grab Bags"
"Community Center Clean-up"
"Michael Shin: 5th Grade Ninja"
"Weirdest Things"
"Nice Try Though"
"Labyrinth Homework Gatekeeper"
"Eli's Electronics Depot"
"Putting Shaving Cream On Stuff"
"Bunk Bed Mountain"
"Birthday Buffet"
"Laser High Five"
"Loudest Ringtone Ever"
"Wes and Fred Johnson"
"Restaurant Artist Kid"
"Nighty Lighty"
"Punch Bowl Jump Rope"
Ad blocker interference detected!
Wikia is a free-to-use site that makes money from advertising. We have a modified experience for viewers using ad blockers

Wikia is not accessible if you've made further modifications. Remove the custom ad blocker rule(s) and the page will load as expected.