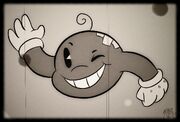 These cartoon Neopets are modeled after the ones from the 20s and 30s. They love burgers and spaghetti. They can strech out to unbelievable lengths!
Maybe they can be even more powerful than Super Joe...
They are DLC for VirtuVenture Supreme; the game will be known as Neoheads, coming in 2019.
Known Cartoon pets:
Taltom Bonk
Ethel Blumaroo
Wocky A. Mozpong
Myrtle Eyriez
Lupey Velazquez
Mary the Prarie Aisha
Kiko Coney (right)