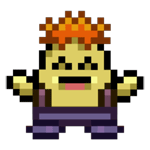 The Chia can now be zapped 8-Bit at the Lab Ray! If you are looking for something to do over the weekend, don't forget to visit the Faerie Quests page every day and claim your daily prize to get a special reward at the end! You can even help out the faeries while you are there, too! ;)
Cap'n Threelegs will give away free training to all Chias that visit him during Chia Day!
Ad blocker interference detected!
Wikia is a free-to-use site that makes money from advertising. We have a modified experience for viewers using ad blockers

Wikia is not accessible if you've made further modifications. Remove the custom ad blocker rule(s) and the page will load as expected.